Annuity: Fixed, Variable, Equity-Based Annuity: Deferred, Immediate Annuity
Fixed, Variable, Equity-Based Annuity Deferred, Immediate Annuity
What is an Annuity? Types of Annuities such as fixed annuity, variable annuity and equity-based annuity are discussed. Explain what is a deferred annuity and an immediate annuity.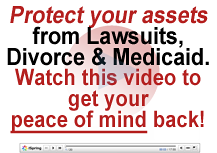 Annuities are not a new concept, although they have become more complex over time. The first annuities were documented in America during the mid-eighteenth century by Pennsylvanian ministers, and it was not until the early twentieth century when they became available for purchase by the general public.
What is an Annuity? How can You Benefit from an Annuity?
So, what is an annuity, and how can you benefit? A simple answer is that an annuity is an agreement between you and your insurance company. Annuities can only be sold by agents specifically licensed to do so, and each insurance company is regulated by individual state insurance commissions. Your insurance agent must possess a life insurance license as well as a license from the National Association of Securities Dealers (NASD) or the Securities and Exchange Commission (SEC).
If your insurance company goes bankrupt, other licensed companies in the state are required to honor your contract. The terms of an annuity are that you will pay a sum of money to the insurer (either a lump sum or series of payments) and they will make scheduled payments to you immediately or delay payments until after a certain period of time.
Unlike your 401(k), annuities grow tax-deferred and you will not pay any taxes to the Internal Revenue Service (IRS) until you begin withdrawing funds from your annuity. Unlike other savings options through a bank which may calculate and charge yearly taxes on your interest, in a tax-deferred annuity your taxes are based only on the final accumulation of your annuity at the time of withdrawal.
Annuity Types: Fixed Annuity, Variable Annuity, Equity-Based Annuity
In addition to deciding when you will receive your money from an annuity, you can also choose between a fixed and a variable annuity. A fixed annuity guarantees a minimum interest rate while your annuity accumulates, and guarantees equal check amounts when you withdraw from the annuity.
A variable annuity allows you different investment options for your funds, with a mutual fund as the most common choice. A variable annuity offers no guarantee to payout amounts, and your income from this annuity will fluctuate depending on the investment vehicle you chose. On occasion you may be offered an equity-based annuity which determines your interest rate based on an equity index such as the S&P 500.
Choosing Between a Deferred Annuity and Immediate Annuity Plan
Deciding between a deferred and an immediate annuity is a matter of personal preference. If you prefer to save for a long-term goal such as retirement, and have no immediate need for the money, you should consider a deferred annuity. It is important to remember that if you choose this type of annuity there are penalties for early withdrawal. The IRS imposes a standard ten percent penalty, in addition to income tax on accrued funds, if you withdraw money before the age of 59 1/2. Your insurer may also charge you surrender fees for early withdrawal.
Three Methods for Requesting Payment for Deferred Annuity
If you wait until retirement to withdraw money, there are three methods for requesting payment from a deferred annuity. You can:
Request a lump sum payment or
Take out money only when you need it or
Annuitize and receive a set dollar amount every month for as long as you live
Most people choose to annuitize because it also spreads out the required income tax payments. If you die before withdrawing from the annuity your beneficiaries are entitled to receive the balance of your annuity by these methods as well, although if they choose a lump sum they will be charged all the tax on your accrued interest at once.
Immediate Annuity if Close to Retirement
If you are close to retirement, or already retired, an immediate annuity is a wiser financial choice. Immediate annuities must be purchased with a lump sum since payments will usually begin within one month of purchase. When you purchase an immediate annuity you are guaranteeing a steady income for the rest of your life, or for a predetermined time period. When you receive payments from an immediate annuity you are only taxed on the earnings from your initial investment. The part of your check that is the principal is not taxable.
Read more articles Annuities, Irrevocable Trusts & Asset Protection on:

We never share your email information with third parties. We collect your email address so you can benefit from money-saving tips. For more information please review our privacy policy.
Powered by EmailMarketingServicesCo (a division of Estate Street Partners®)