Will Contest: What is it? How can you Protect a Will?
How Can You Protect a Will? Tesator, Non-contest Provision or Forfeiture Clause
Will Contest defined. What are the valid objections to pursure a will contest? How to protect your will? What is a Non-contest Provision or Forfeiture Clause to Will?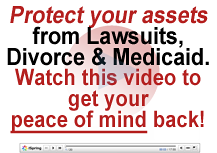 A Will is a legal document
outlining a person's final wishes for distributing their property post-mortem.
A Will Contest is a type of litigation stating there is a disagreement with the current Will, and must go through Probate Court to be resolved
. Watching the Anna Nicole Smith or James Brown court proceedings it is evident that a Will Contest is a lengthy and expensive process, so it is important to understand the necessary components before filing. It is advisable to hire an experienced probate lawyer if you decide to proceed.
Who Can File a Will Contest?
In order to file a contest, you must have "standing" to make an objection. This means you cannot file a Contest if your best friend dies and you do not agree with how their children will spend the inheritance. You can file a Will Contest if, for example, you have been left out of the Will by an angry parent, if your sibling received a higher percentage of the inheritance, or if your parent left all their inheritance to charity because they felt the money would be better spent. These examples can also pertain to a Will belonging to any of your relative's of which you feel entitled to receive a portion of the estate. Once it is determined you have "standing", you must also have a valid objection to the Will. Simply being unhappy about the outcome is not sufficient to warrant a Will Contest.
Typical, and Valid Objections for Pursuing a Will Contest:
The person making the Will (testator) never signed the Will. Even if an attorney prepared the Will, the Will is invalid if the testator did not also sign it.
The Will did not meet statutory requirements. It is important to review the specific laws of the state in which the Will was drafted. For example, some states require a specific number of witnesses to sign the Will, in addition to the testator and the attorney.
The testator was influenced when drafting the Will. This means that a third party, often a child or spouse, convinced the testator to leave a disproportionate amount of the estate to him/her.
The testator lacked the mental capacity to understand the Will he/she drafted. A common example of this would be an elderly parent with a condition affecting memory (Alzheimer Disease, senility, etc.).
If the probate judge determines you have a valid case and you win the Will Contest, the court has several options:
Throw out the entire Will. In this case, property will be distributed as if no Will existed.
Disallow only the part(s) of the Will that were contested.
Depending on individual state law, the court may use a previous Will if the testator drafted one.
How Can I Protect My Will?
It is natural to assume that you want your Will to be followed exactly at the time of your death. Everyone can justify whom he or she wants included and specifically excluded from his or her Will. Fortunately, there are several provisions you can follow to deter a Will Contest.
The first step you want to remember is having an attorney help draft your Will. A knowledgeable attorney will use language when drafting your Will which minimizes ambiguity, and helps minimize (or avoid completely) the taxes your beneficiaries will pay when it comes time for probate. If you are worried a beneficiary may contest your Will your attorney may contact a physician to evaluate your mental state and serve as a witness to the Will signing.
A second step your attorney may include is a Non-contest Provision, or Forfeiture Clause, to your Will. This Provision states that a beneficiary who chooses to contest your Will loses any right to inheritance they might otherwise receive. In other words, if someone disagrees with your Will they will be awarded nothing from your estate if they pursue a Will Contest.
It is important to note that you cannot stop a beneficiary from taking the case to court, and this Provision only serves to strip that individual from their inheritance if the case goes that far. Also, this Provision is only valid if the beneficiary has something to lose if they contest the Will. The last section of a Non-contest Provision is called a "gift over", and covers what will happen to the forfeited estate if a beneficiary purses a Will Contest. Without the "gift over" your Non-contest Provision is considered invalid.
Read more articles on:

We never share your email information with third parties. We collect your email address so you can benefit from money-saving tips. For more information please review our privacy policy.
Powered by EmailMarketingServicesCo (a division of Estate Street Partners®)