Estate Street Partners offers advanced financial advice to ensure maximum asset protection from probate costs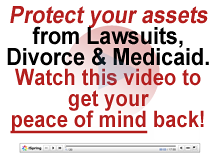 What's probate? It's a big fancy word. Basically, probate is a redistribution of your wealth and assets. The probate process begins on the date that you die. Everything that is in your name has to go to probate. Whether or not you have a will, all your assets go to probate. Each of the 50 states has different rules for the probate process but the common theme in all of it is that the court system takes over.
The Probate process and the Will
If you have a will, the will itself is a member of a public record. If you don't have a will, the state will determine who gets your assets. Creditors can file a claim, long lost relatives could file a claim or anybody can file a claim on your assets. In the probate process, the court determines who gets what, and determines the verification of the claim. The entire probate process including lawyers, accountants, appraisers, court costs takes time and money.
The Cost of Probate & How the Ultra Trust® Protect Your Assets from Probate
In some states the probate process can take 2 years and cost 14% of the estate. With the Ultra Trust®, what we consider to be the best
irrevocable trust asset protection
plan, you don't own any assets, you don't have to go through the probate process. And because you don't own any assets, you don't have to file an estate tax return. So your beneficiaries or heirs don't have to worry where the assets are going to go – in other words, your assets are protected. Your beneficiaries do not have to worry about what the probate process is, or who they will need to speak with. They can be at peace because you protected them with your estate planning ahead of time from the fiasco.
Therefore, the probate process is to determine who gets what after you die. So everything in your name goes to probate. They determine who gets the house, who gets this asset, who gets that asset, and whatever other assets you have when you pass away. The estate tax is based on how much the wealth or estate is worth. Before the estate is distributed, the government would like to get the biggest chunk. You can avoid all this with an asset protection plan called the Ultra Trust® irrevocable trust.
Continue to read part 8 of 11 on the Ultra Trust® benefits as one of the best irrevocable trust plans for asset protection here:
What is estate tax?
Rocco Beatrice, CPA, MST, MBA, Managing Director, Estate Street Partners, LLC.
Mr. Beatrice is an asset protection award winning trust and estate planning expert.
To learn more about irrevocable trusts and senior elder care visit: