Estate Street Partners offers advanced financial advice to ensure maximum asset protection from lawsuits, divorce and Medicaid spend down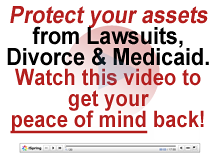 Hello, my name is Rocco Beatrice. I am the Managing Director for Estate Street Partners. We provide financial solutions to your problems of wealth and help protect your assets. We coordinate with your financial goals. We bring to the table the different disciplines, the accountants, the lawyers, the appraisers, the tax guys all for the purpose of protecting your assets and wealth against potential frivolous lawsuits, divorce, the
Medicaid spend down
, and to minimize your taxes on your income streams, to defer your capital gains taxes, to eliminate the probate process, and to eliminate the Estate tax. And finally, to facilitate tax efficient transfers of your assets and wealth to whomever you'd like to your heirs, children or beneficiaries (in the second generation) and to enable a top, reliable asset protection plan.
Continue to read part 2 of 11 the Ultra Trust® benefits as one of the best irrevocable trust plans for protecting your assets here:
What is the Ultra Trust®?
Rocco Beatrice, CPA, MST, MBA, Managing Director, Estate Street Partners, LLC.
>
Mr. Beatrice is an asset protection award winning trust and estate planning expert.
To learn more about irrevocable trusts and senior elder care visit: