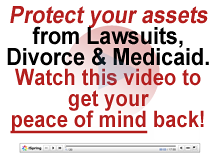 The
VERTEX TRUST®
is an Irrevocable Domestic Non Grantor Trust for deferring capital gains taxes on highly appreciated asset(s) up to 20 years within the United States; 30 years or more, if your transaction is taken internationally. "Defer" means to "postpone."
Based on the mortality tables supplied by the IRS, your capital gains taxes may be postponed (i.e. to your age 75, 80, 85, 90, etc.); thus deferring your taxes up to 20 years domestically and up to 30 years or possibly longer, internationally.
When your
VERTEX TRUST®
is combined with an international platform, your Domestic Irrevocable Non Grantor Trust, will postpone your capital gains and all income taxes on
re-investments
. When correctly engineered and implemented by a team of qualified competent professionals, such as Estate Street Partners, the possible results are permanent tax deferral of capital gains taxes, permanent deferral of income taxes on accumulated earnings, elimination of probate, elimination of transfer taxes and inheritance taxes.
VERTEX TRUST® (Registered Trademark of Estate Street Partners, LLC)
"Knowledge" is our most important "product."