Taking into account your potential inheritances, as well as your current real estate, tangible personal property, and investments might be enough to warrant pre-wedding planning. Most think a prenuptial agreement is the best way to solve this problem.
Prenuptial agreements have gained in popularity over the years, but don't think that a prenup is the only option for anyone seeking to protect assets from a potential divorce. Prenups have been, and will continue to be, broken and/or circumvented. Consider other options to avoid a circumvented prenup and that awkward prenup conversation with your fiancee. Experts recommend an irrevocable trust to effectively separate assets from marital assets without the need for that awkward conversation. Here are the top 5 things you need to know:
1. Avoid an Awkward Talk Before the Wedding
Ted is engaged with just four months until the big day. Ted's fiancé, Mary, wants the day to be perfect. Mary and her family have spent months looking at dresses, cakes, venues, and entertainment. Ted has a big secret though. He knows that he is set to inherit a sizeable amount of assets and has accumulated quite a bit of savings of his own. He loves Mary, but he knows not having his assets protected is a bad idea because anything can happen.
Ted eventually gathers up more courage than it took him to pop the question; casually mentioning to Mary that "we need to talk" and asking Mary for a prenuptial agreement. Mary smiles and asks, "What's wrong Ted, don't you think we'll be together forever?" Just as Ted's heart starts to sink into his stomach, Mary begins a tirade of anger, resentment, and hurt feelings. Mary storms off, and tells her family that she can't believe what Ted has asked her to do – pre-plan their divorce!
Ted may have just ruined their relationship forever because he planted a seed of distrust and resentment that will sit in the back of Mary's head for the rest of their marriage. Whether Ted backs down now about the prenup or not, Ted loses. Ted could just as easily have yelled from a mountaintop, "Mary is the love of my life, so I don't need a prenup" all the while still protecting his assets in the event of divorce. In fact, there is a financial instrument that would allow Ted even greater protection without the awkward conversation or any conversation for that matter, an irrevocable trust.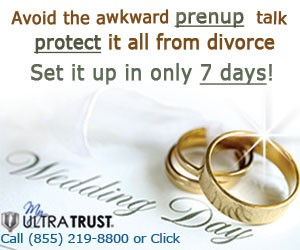 The biggest problem with a prenuptial agreement is just that; the parties must specify all of the assets they own as well as the property they want to keep as separate during the marriage and thus retain ownership of in the event of a divorce. Do you want to live day-to-day saying this is mine and that is yours and making sure never to use your separate accounts for marital expenses?
Another problem is that it must be agreed upon and signed by both parties. The formalities that make a prenuptial agreement legally binding in the event of a divorce are another one of its most glaring disadvantages. Many people find it difficult to discuss the subject of maintaining ownership of separate property with the person they are about to marry. Talking about divorce at all while planning a marriage is a sticky situation at best. 99% of newlyweds would prefer to avoid the topic altogether if they could. Luckily they can… and still be protected.
The alternative is an irrevocable trust. An irrevocable trust is a legal document just like a prenup, but the advantage over a prenuptial agreement is that the trust does not require the involvement of your fiancee. Placing your assets in an irrevocable trust takes the assets out of your name and places them into the trust. The assets placed in an irrevocable trust never become part of the marital estate, so they are never at risk in the event of the marriage ending in a divorce, but you can still use the assets, sell them, or refinance them, etc.
2. Asset Protection from Legal Challenges in a Divorce
Although a prenup is what mainstream media talks about, challenging a prenuptial agreement successfully in a divorce proceeding is much easier than people realize – that is, until it is too late. Challenging the validity of a properly drafted, implemented, and funded irrevocable trust, however, in a divorce situation is just the opposite; there is nothing stronger. Court calendars are filled with court cases of divorces in all 50 states in which individuals who readily agreed to the terms of a prenuptial agreement, challenged the prenup's validity years after signing it and were successful. These were millionaires using very expensive attorney's to guide them and the prenups were still unwound. Real-life examples of cases include:
Click here for a list of 25 case summaries with links to the full cases for your detailed research showing how prenups and irrevocable trusts perform in live divorce situations all across the country.
3. Protect Assets from Prying Eyes
The creation and funding of an irrevocable trust is completed in private without having to disclose what you own to your spouse. This is in striking contrast to prenuptial agreements that have been invalidated because of a failure to disclose every single asset – even if it was a clear and honest mistake. The Court of Appeals of California ruled that a prenuptial agreement was unconscionable because the husband did not adequately disclose the full extent of his assets.
4. Estate Planning Tool
Irrevocable trust's offer you a vehicle for controlling and protecting assets while you are living as well as during the post-death distribution of the assets that you worked hard all of your life to acquire. A prenuptial agreement does not survive death and does not allow for the distribution of your assets. This means that your spouse will probably get all of your assets and then may distribute them as he or she pleases, including distributing none to your children. This can be especially tempting to the surviving spouse if the children were from a prior marriage of the deceased spouse. An irrevocable trust insures that one's assets will be distributed to the pre-chosen people in life or in death.
5. Creditor, Medicaid, Probate, and Estate Tax Issue Planning
A properly drafted, implemented, and funded irrevocable trust helps you to increase your privacy, avoid lawsuits, avoid the costs of the nursing home, and avoids the delays as well as expenses associated with probate. Transferring your assets to an irrevocable trust reduces the size of your estate used to calculate your Medicaid eligibility as well as to reduce estate taxes and avoids probate completely.
The prenup achieves none of these goals because it is only designed for the purpose of splitting assets in the event of a divorce, not death.
In conclusion, most clients with assets to protect, who weigh all of the options after finding out the facts, risks, and uncomfortable conversations, tend to choose an irrevocable trust over a prenuptial agreement. Call us now to find out more and to get your questions answered or if you think that you know enough to start personalizing your Ultra Trust now, go to our partner www.myultratrust.com and start immeadiately.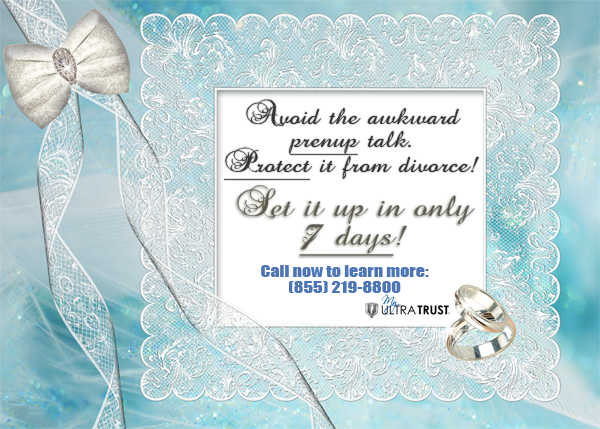 Please visit:
MyUltraTrust.com
for more information on setting up your own irrevocable trust plan.